Strategy Session 1 in the 4-Part Series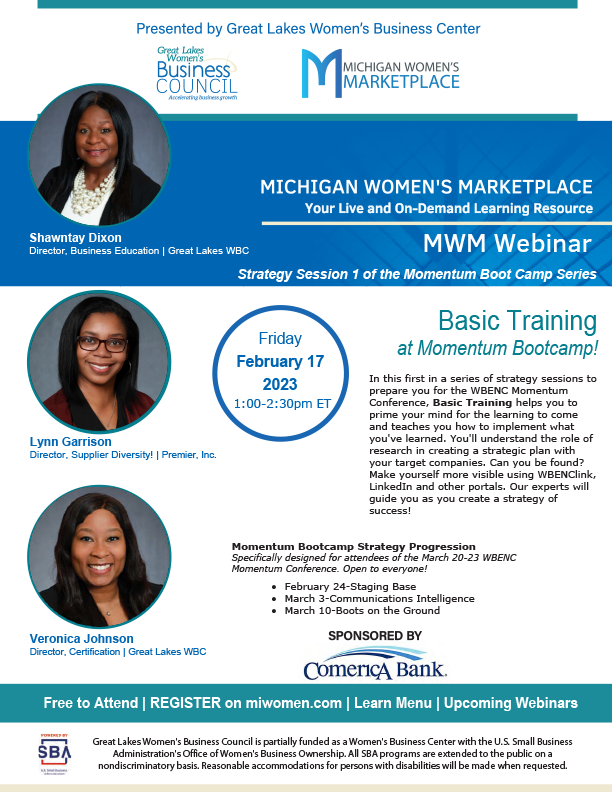 February 17, 2023 | 1:00 – 2:30 pm
In this first in a series of strategy sessions to prepare you for the WBENC Momentum Conference.
The first session, Basic Training helps you to prime your mind for the learning to come and teaches you how to implement what you've learned. You'll understand the role of research in creating a strategic plan with your target companies. Can you be found? Make yourself more visible using WBENClink, LinkedIn and other portals. Our experts will guide you as you create a strategy for success!
Speakers
Shawntay Dixon | Director of Business Education | Great Lakes Women's Business Council
Lynn Garrison | Director, Supplier Diversity |- Premier Inc.
Veronica Johnson | Director of Certification| Great Lakes Women's Business Council
Momentum Bootcamp Strategy Progression
February 17 – Session 1 Basic Training
February 24 – Session 2 Staging Base
March 3 – Session 3 Communications Intelligence
March 10 – Session 4 Boots on the Ground
This is an interactive, exciting series with subject matter experts providing the content. Though geared to our WBEs, everyone is welcome to attend to glean the important information given.
---
Free to Attend | REGISTER OR LOGIN on miwomen.com | Learn Menu | Upcoming Webinars