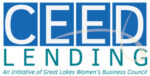 CEED Lending is an initiative of the Great Lakes Women's Business Council (WBC). We are providing business expansion financing and small business loans to start-up and existing enterprises owned by women or men in the following nine southeast Michigan counties: Hillsdale, Jackson, Lenawee, Livingston, Macomb, Monroe, Oakland, Washtenaw, and Wayne. Loan amounts vary from $5,000 to $50,000.  We have made more than $8 Million in loans which created more than 1,800 jobs. As one of the first microlenders in Michigan, we understand that small business owners typically need more than financing.  Our loans are partnered with technical assistance services to our business owners
CEED Lending is committed to standing alongside our small business owners to promote success. We do not just lend money; we help build strong businesses. Our goal is to help owners sustain their businesses and move them to the next level by being trusted advisors, sharing resources, and accountability in business development strategies. 
Visit the SBA Microloans, for information on small business loans in other counties or states.
Our strategic partners listed below agree that financing is a critical need for small business owners.




If you have questions or need assistance with the application process, contact a Loan Officer by calling 734-677-1400.