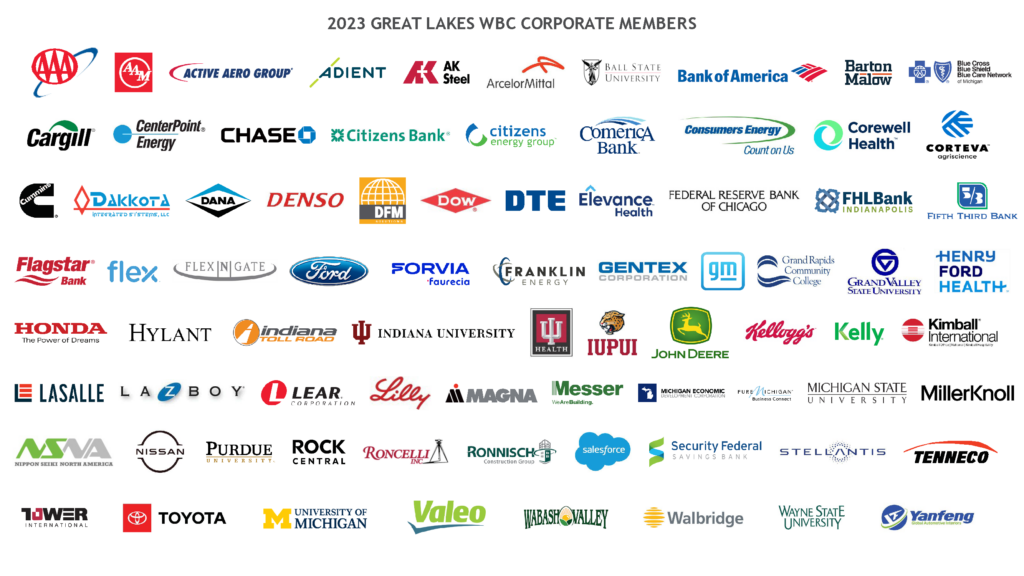 Great Lakes Women's Business Council (Great Lakes WBC) aligned with corporate members (Corporations, Non-Profit, Government, and Public Institutions) to provide procurement opportunities and maximize growth potential for women business enterprises in Indiana and Michigan.
Great Lakes WBC is a regional partner with the Women's Business Enterprise National Council (WBENC) which provides the national certification that recognizes Women's Business Enterprises (WBE), streamlines the procurement process, and is a leading advocate for women business owners.
Regionally we have over 90 Corporate Members and nationally over 300 Corporate Members that have found it beneficial to be a Corporate Member.
Benefits
Following benefits apply to Corporations, Non-Profit, Government and Public Institutions.
Recognition
Your company will be listed as a Corporate Member on the Great Lakes Women's Business Council (Great Lakes WBC) website, marketing materials, and social media sites.
Access to WBENC Certified WBEs
Access to qualified nationally certified Women Business Enterprises (WBEs) in the region. Corporate members will have access to the WBEs database. Training will be provided on the use of WBENCLink.
Meaningful Connections to our WBEs
Supplier diversity and purchasing staff will have opportunities to meet and network with qualified WBEs at Great Lakes WBC events and WEmatch (matchmakers).
Concierge Service
Immediate response by Great Lakes WBC Staff to identify qualified WBEs for bid opportunities.
Signature Events
Invitation to participate in Great Lakes WBC (regional) and WBENC (national) innovative events that offer the opportunity to network and cultivate procurement opportunities. Largest Women Business Conference in the region, Executive Education Training (sustain qualified WBE Suppliers), educate WBEs on corporate procurement processes, Awards Celebration and Excellence in Supplier Diversity Awards.
Webinars
Corporate Webinars educate WBEs on the procurement process and requirements for the selection of qualified WBE suppliers.
Corporate Webinars offer education to supplier diversity programs on the foundation of diversity, the business case, and achieving excellence in supplier diversity.
Updates
Corporate Development Committee (CDC) "Corporate Focus" – Corporate Focus provides information on corporate members in Michigan and Indiana.
Committee Services
We encourage representatives of your company to be actively involved in our council by serving as a member of a committee: Certification Review Committee (CRC), Corporate Development Committee (CDC) or join an Event Planning Committee.
Excellence in Supplier Diversity
Participate in the Excellence in Supplier Diversity Awards Program (designed to recognize supplier programs and their efforts).
For more information, contact LeCathy Burston, Senior Director of Membership and Corporate Development at 734-677-1400 or corporate@greatlakeswbc.org