We are excited to announce the next cohort application cycle for MentorWE, an initiative of Great Lakes Women's Business Council. A diverse cohort of women business leaders will have the opportunity to bring their business challenges and develop goals to advance their businesses through corporate executive & peer mentoring.  During the 9-month program, participants work within a diverse cohort to sharpen their business acumen in several areas while enhancing their leadership, networking, and communication skills led by advanced women business leaders. Since 2019, 82 certified WBEs have participated in the program and have achieved phenomenal business and personal results.  By design, the cohort's objectives are self-defined at the start of each program cycle.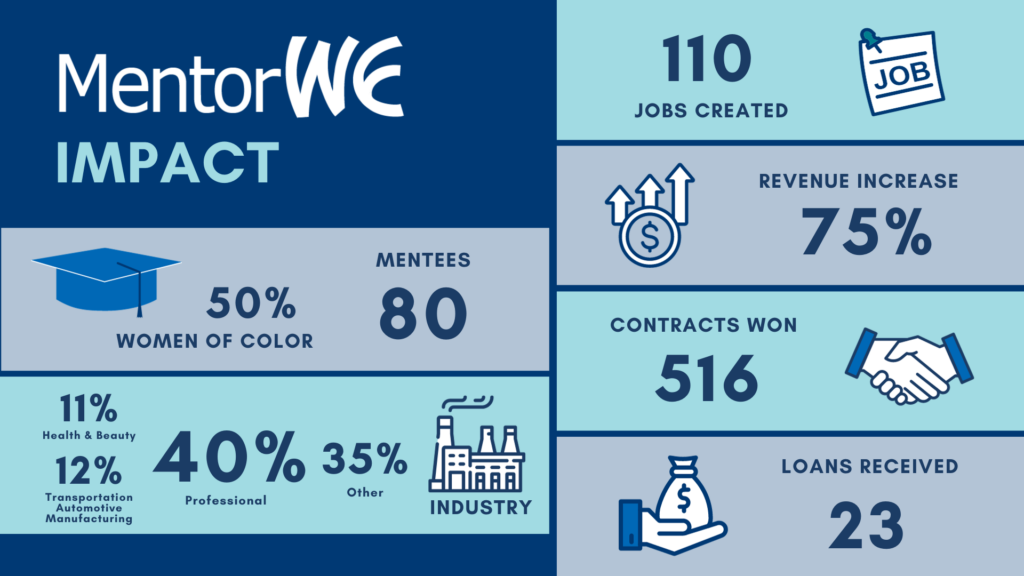 MentorWE Graduation
Congratulations to the most recent cohort!
"Being able to define what makes your company different from the competition is vital when a potential buyer asks for your pitch." And it's a lesson that has since paid off. Unconventional Solutions' sales have grown to $3 million and the firm has expanded into northwest Indiana and doubled its staff. "The education you receive, the relationships you build and the more opportunities you can give to others because of this MentorWE program are priceless"
"I am grateful for being in the program and being awarded the registration to attend the National WBENC Conference. At the conference, I received one-on-one coaching from the GLWBC Program Manager as I interacted with Corporate procurement professionals. I appreciate the level of attention I received from my mentor Anne throughout the cohort. I have much work to do to get my business to a level of success, but I've received much information and a foundation on which to build upon through MentorWE."
"The support and encouragement mentees gave each other were truly heartwarming and I suspect those relationships will continue for years to come," said LeFevre. "This kind of network is important because when I started in this business 30 years ago, there were precious few women in the construction industry and even fewer women-owned businesses. We've made strides over the years but that progress has been far too slow. MentorWE is not only a well-structured program that can help change that, it's also a way to share our trials and triumphs."
"Thank you for accepting me into the MentorWE program. It was a big commitment, but so worth it! Our other business has increased, we employed two more people. I really enjoyed the strategic planning session facilitated by Aristeo Construction. It helped me understand how to prepare for 2020. Also being new to being the spokesperson for my business, learning how important it is to deliver a two-minute pitch is invaluable!"
"I developed lasting relationships with mentors and landed a new contract of $2M with a peer mentor. I enjoyed every session and the relationship formed with the other women. We support each other, share valuable insight on upcoming opportunities, and also do business with each other if we can all thanks to going through this program."
MentorWE is a group mentoring initiative, which pairs certified women business owners in an industry/sector-specific cohort with an established woman business owner(s) in the same field to advance and develop their businesses through corporate executive and peer mentoring. It is designed to build up women-owned businesses through other executive women-owned businesses' power and strength.
The mentors are women that know your struggles, met your pain face to face, walked your walk, and with strength and determination, they found success not only in the value of a dollar but by helping another woman navigate their way through their journey. New mentees are invited by Great Lakes Women's Business Council annually.
MentorWE Launched
On January 25, 2019, MentorWE launched with an orientation and kickoff hosted by Ford Motor Company. The inaugural cohort specializes in construction and construction-related companies. Through MentorWE, WBEs will have the opportunity to increase their business understanding in various areas while enhancing their leadership, networking, and communication skills through facilitated modules over nine months.  
MentorWE was formed by the desire to provide mentorship to women.  Great Lakes WBC Board Member Angela Henderson, Senior Purchasing Manager for Supplier Diversity Development for Ford Motor Company, passion aligned with the vision of Michelle Richards, Great Lakes WBC Executive Director, to form MentorWE. 
What MentorWE means to me
Sometimes we know we have the potential to do great things, but as women, we may need an encouraging word, a pat on the back, and at times a push over the edge to help us go to the next level. We all come from different walks of life, and we probably do not know our sister's story besides us. When we leave judgment at the door, our status in the workplace and gossip has no entry. We work to build each other up, open doors of endless opportunities, and sit back, kick off our shoes, and WEsip together on whatever beverage that soothes our soul.
The program does not guarantee contracts or new business with peer WBE and/or corporate executive mentors. MentorWE offers tremendous benefits that will affect positive business development. Past mentees reported results from the MentorWE program:
Achieve solutions to business challenges
Build visibility in the WBE network
Develop relationships with corporate executives and successful WBEs within various industries
Encouragement to expand into new areas
Exposure to best practices
Great Lakes WBC is a beacon of positivity and purpose
Improved business strategies and enhanced marketing materials
Network and collaborate with our mentors and fellow mentees
Obtain a vast array of ideas and information for the business
Work collaboratively with others
MentorWE mentees and mentors are by invitation only. Stay tuned to learn about the next MentorWE session.