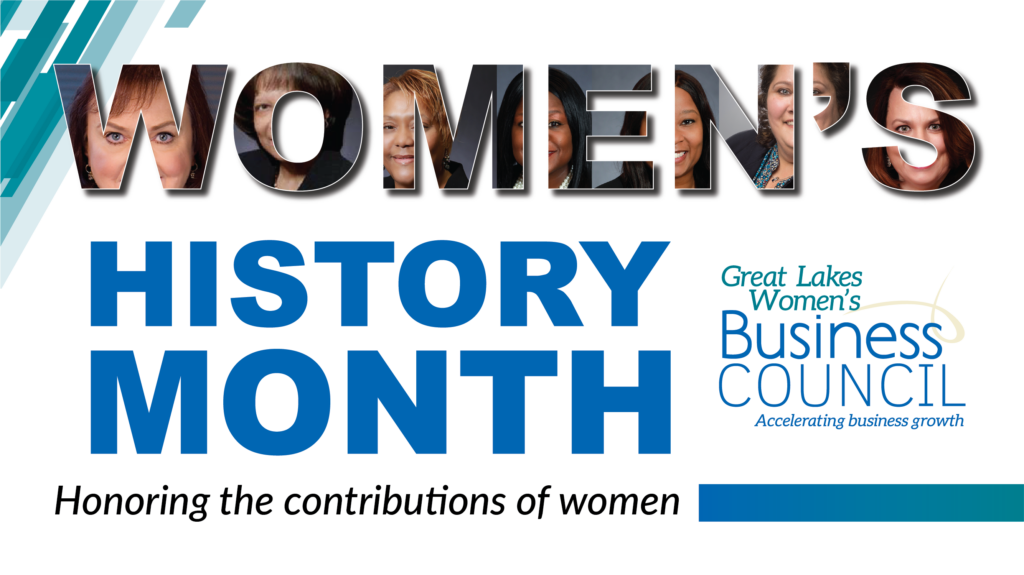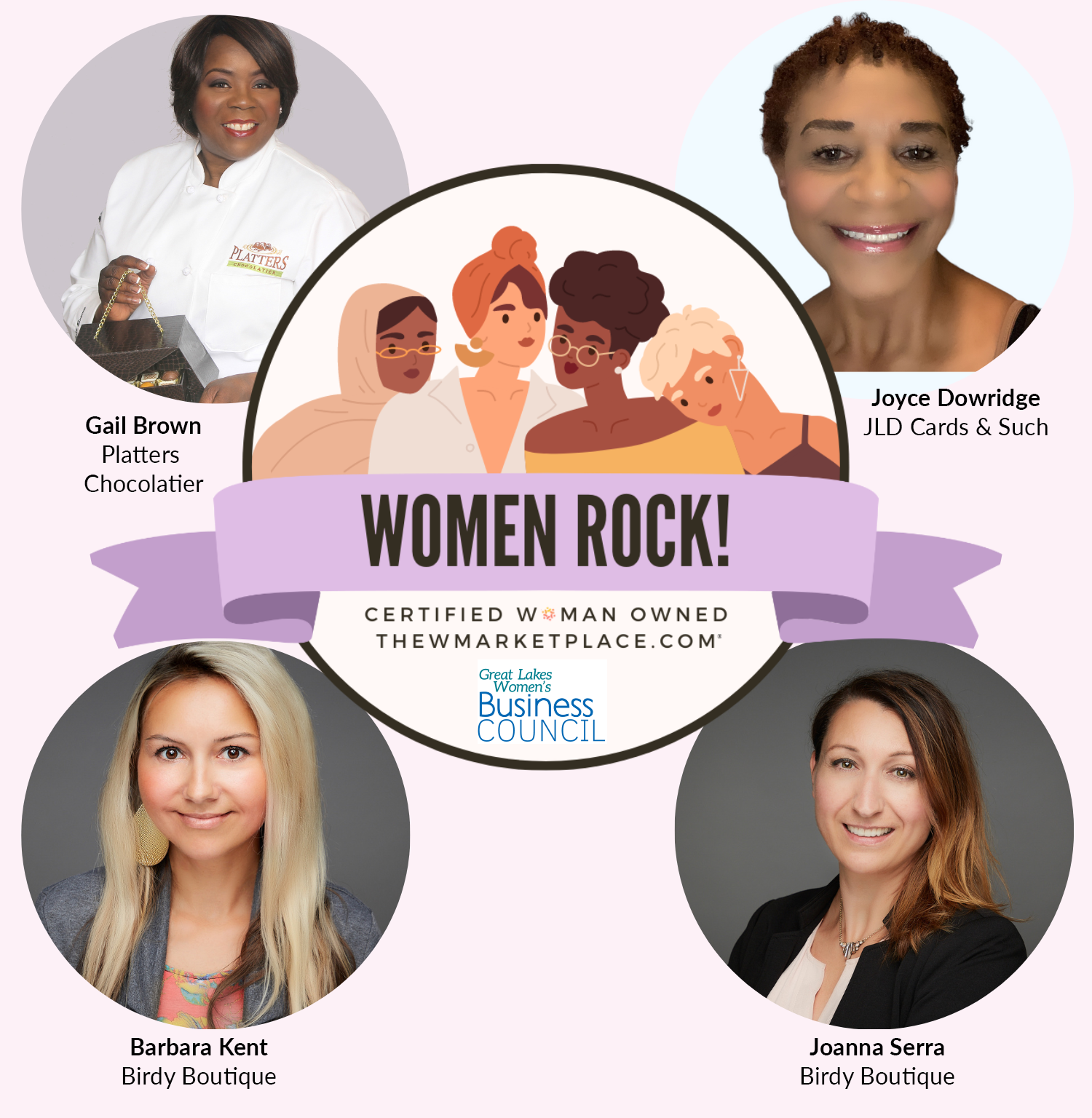 Women Rock! Gift Box
We are featuring three WBEs in the Great Lakes WBC Women Rock! Gift Box on sale now! Give a gift to your sheroes or gift yourself, you deserve it!
Item Description
Women Rock! Gift Box | Women contribute to every part of our society. March is Women's History Month and International Women's Day (March 8) is a day to celebrate everything women bring to our world. Give a gift that celebrates the ingenuity and creativity of women entrepreneurs.
From a cozy, inspirational blanket to fun chocolates and a set of hand-crafted, meaningful cards, this box shows your appreciation.
Purchase your Women Rock! Gift Box now for Delivery in March. $59.99 Includes tax and shipping (a $90 value).
Each box includes:
Women Rock Note Card Set set of (3 hand-crafted note cards)
Joyce Dowridge | JLD Cards & Such | jldcards.com
Girl, You Rock! Chocolate Rocks (6-ounce bag)
Gail Brown | Platters Chocolatier | platterschocolatier.com
Girl Power History Blanket (original design, 50″ x 60″, 100% polyester blanket featuring 25 women pioneers with names and careers.
Barbara Kent and Joanna Serra | Birdy Boutique (WBE and Veteran-Owned Business) | birdyboutique.com
---
2023 Women History Theme
For the United Nations, the 2023 theme for International Women's Day is "DigitALL: Innovation and technology for gender equality," highlighting gender gaps in STEM education and careers — and calling attention to the online harassment many women face.
International Women's Day is also a reminder of the long road ahead. U.N. Secretary-General António Guterres warned Monday that women's rights are being "abused, threatened and violated" around the world and gender equality won't be achieved for 300 years without urgent action. | International Women's Day 2023 campaign theme: #EmbraceEquityhttps://www.internationalwomensday.com/theme
Why Do We Celebrate Women's History Month?
Women's History Month is a dedicated month to reflect on the often-overlooked contributions of women to United States history. From Abigail Adams to Susan B. Anthony, Sojourner Truth to Rosa Parks, the timeline of women's history milestones stretches back to the founding of the United States.
The actual celebration of Women's History Month grew out of a weeklong celebration of women's contributions to culture, history and society organized by the school district of Sonoma, California, in 1978. Presentations were given at dozens of schools, hundreds of students participated in a "Real Woman" essay contest and a parade was held in downtown Santa Rosa.
---
Challenges Faced by Women Entrepreneurs and Some of the Most Successful Women to Follow
Paula Fernandes and Marisa Sanfilippo, Contributing Writers Staff Writer Updated Feb 21, 2023
5 of the most successful women entrepreneurs
Based on their accomplishments and net worth, the following ladies made our cut for some of the most successful women entrepreneurs to date. Love them or hate them, they sure made names for themselves in strong careers.
1. Oprah
No last name is needed for Oprah, known as "the first lady of talk shows." As noted in her online biography, she was born on an isolated farm in Mississippi, where she entertained herself by playacting in front of farm animals. She came from a poor family and experienced sexual abuse at the age of 9, but she says she hit a turning point in her teenage years when her father saved her life.
Oprah Winfrey's first streak of success came when she won the titles of Miss Black Nashville and Miss Tennessee in her freshman year of college. After graduating, she moved into the TV industry and was soon getting better ratings than daytime talk show pioneer Phil Donahue. Today, Oprah is best known for hosting The Oprah Winfrey Show, being a billionaire philanthropist, and having her own TV network and magazine.
2. Gisele Bundchen
In her instant New York Times bestseller Lessons, Gisele Bundchen talked about her time growing up in Brazil with her sisters and how she was teased for being tall and skinny. Those features helped launch her modeling career, and since 2001, she has been one of the highest-paid models in the world.
Aside from the well-known work she has done in the modeling industry, Bundchen is the founder of Sejaa Pure Skincare. The line includes a face cream, night cream and mud mask. She plays to her personal brand with an entrepreneurial mindset, earning a cut of sales from jelly sandals she designed and her own line of lingerie, according to StyleCaster.
3. Sheryl Sandberg
This American technology executive was born in Washington, D.C., but moved to North Miami Beach, Florida, with her family soon after. Her success came at a young age when she was part of the National Honor Society and graduated high school in the ninth position of her senior class with a 4.6 GPA. Her accomplishments in high school did not go unnoticed when she was admitted to Harvard University.
Sandberg is best known for her work with Google and Facebook and for her New York Times bestseller, Lean In. After holding several prestigious positions with other companies, Sandberg served as Google's vice president of global online sales and operations until she was recruited to be Facebook's first COO.
4. Lady Gaga
Born by the name Stefani Joanne Angelina Germanotta, Lady Gaga first took the world by storm in 2008 with her pop hit "Just Dance." But before she was Gaga, she was a girl in Catholic school who had a love for music and wrote her first piano ballad when she was 13.
In 2008, Gaga released her debut album, The Fame, and started making a name for herself. Lady Gaga never was just your average pop star – she goes all out in everything she does, from her risky outfits to her fun dance moves and jaw-dropping theatrical performances.
Music was only the start for Gaga. Today her credits include a Golden Globe for acting in American Horror Story, an Oscar win for Best Original Song and nomination for Best Actress in A Star Is Born, and a makeup line called Haus Labs that the internet is literally going "Gaga" over.
5. Zhang Xin
Zhang Xin is co-founder of SOHO China, a real estate development firm in China that went public in 2007.3 Known as "the woman who built Beijing," she was once a factory worker, later graduating from Cambridge University with a master's degree in economic development. Zhang worked for Goldman Sachs before launching her company; she has since amassed a $2.8 billion fortune.4
---
execWE | Beyond Sustainability | April 5, 2022 | Lear Corp Headquarters | Southfield, MI
---
Shop Women-Owned Businesses
---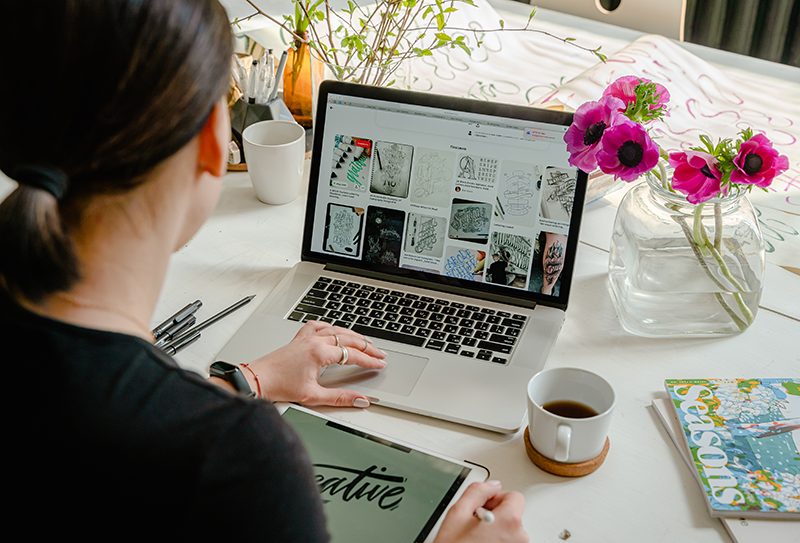 5 Tips to Create the Perfect Website for Your Woman-Owned Small Business
Small businesses are booming. Over 5 million new businesses launched last year — 55% more than the numbers reached in 2019, and your business might even be among them.
Now is a great time to get started, especially as more giant corporations struggle to deal with the Great Resignation. However, more small businesses also mean more competitors — so you need to work even harder to stand out.
The article is for the exclusive use of greatlakeswbc.org
By Alicia Walden
---
Women Leaders in History
---
Footnotes