The SBA Michigan District Office is pleased to present a free virtual roundtable featuring a panel of six successful women business owners from different walks of life, in honor of Women's History Month and International Women's Day. This year's theme is "Phenomenal Women". This panel of six women small business owners, each phenomenal in their own right, will discuss how they started their businesses, its failures and successes, as well as provide tips to other entrepreneurs on how to create and maintain a successful business.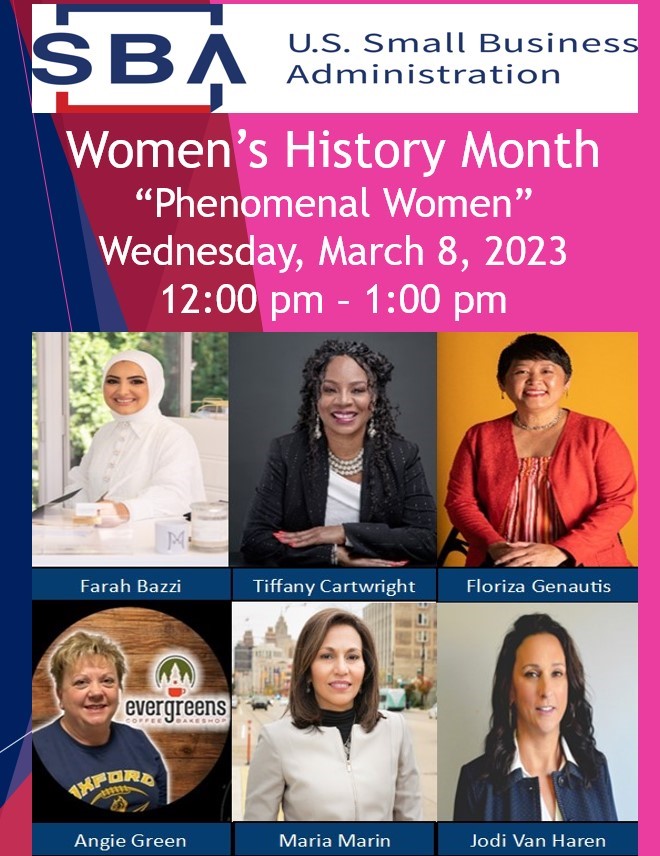 "Phenomenal Women" Panelists:
Farah Bazzi is a Lebanese immigrant who arrived in the United States in 2005. She pursued her passion for science and psychology, completing a master's degree in Science Education. After giving birth to twins in March 2020, Farah took a maternity leave and used the time to start Maraseel, a luxury stationery business catering to Arab women. The business has since grown and now specializes in producing high-quality greeting cards, wedding invitations, and business stationery. Farah has big dreams for Maraseel and is committed to expanding her business while providing excellent service to her customers.
Tiffany Nicole Cartwright is the Founder and CEO of Amarra Products, a certified woman-owned, black-owned Detroit based company specializing in natural organic skincare products founded in 2015. Tiffany started the company as a new mom determined to find natural remedies after her daughter was born with eczema. Today, Amarra Products has partnered with several big box retailers including Walmart, Target, Meijer and Stop and Shop.
Floriza Genautis is the principal and founder of Management Business Solutions a minority company and is certified Micro Local Business Enterprise (LBE), Women Business Enterprise (WBE) and Women-Owned Small Business (WOSB). Management Business Solutions (MBS) a staffing firm and recruiting agency, founded in 2006 to provide practical, cost-effective, and customized employment solutions to local and nationwide clients alike.
Angie Green, from Oxford, Michigan owns and operates Evergreens Coffee and Bakeshop which opened March 2016. The successful cafe employs 10 people and wholesales their bagel bomb product to 10 local shops for the past seven years.
Maria Marin is the CEO, President and Founder of Unlimited Recycling, Inc., a "One-Stop-Shop" company specializing in waste disposal, recycling, and transportation for commercial, industrial and institutional facilities. In addition, they offer equipment rental, including compactors, balers, and dumpster roll-off services. Established in 1999, the company has successfully served high-profile customers like Selfridge Air National Guard, US Army TACOM, McNamara Federal Building, Wayne County Airport Authority, Android Industries, Walbridge, and Lear Corporation. Maria is an alumni member of Stanford Graduate School of Business of Stanford, CA and a mentor for the Stanford University Hispanic Entrepreneurship Program. She graduated from the Stanford Latino Entrepreneurs Leader Program in 2016. She is on the Board of Directors for the Michigan Hispanic Chamber of Commerce.
Jodi van Haren is the founder and owner of Advantage Mechanical-Refrigeration (AMR), a full service commercial HVACR and plumbing contractor headquartered just north of Grand Rapids, in Comstock Park, Michigan which she started in 2001. Jodi began her career in the mechanical trades/construction industry in 1989. Entrepreneurship was one of her goals. At 22 years of age, she started up the first of three businesses she has owned and operated. Jodi is a tribal member of the Sault Saint Marie Tribe of Chippewa Indians and AMR is a certified MBE and WBE and former SBA 8(a) business. When she is not working, she enjoys spending time with family and volunteering for various organizations where help is needed.
Hosted by SBA