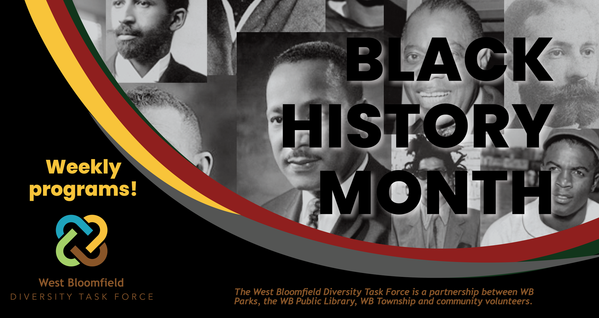 LOVE YOURSELF: Wellness While Black
Saturday, February 12, 9 – 11:30 am at Connect at Orchard Mall
Make a date with yourself! Come celebrate both Black History and Heart Health month with an interactive event that will fuel your heart, mind and soul. This information-packed morning will include a doctor's roundtable discussion on heart disease, hypertension and nutrition. Then stay for free trials of yoga, Zumba, dancing lesson (hustle) and sample healthy treats such as smoothies. You will leave with inspiration to live healthier and happier. Ages 16+.
Pre-registration is encouraged to receive giveaways and an event reminder.
The West Bloomfield Diversity Task Force is a partnership between WB Parks, the WB Public Library, WB Township and community volunteers.