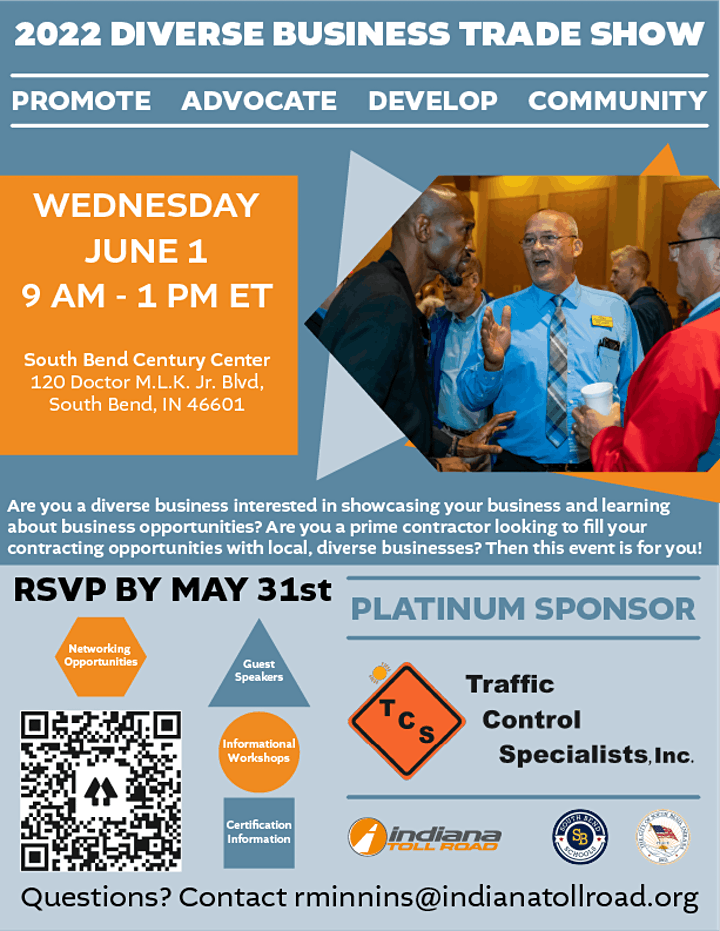 Are you looking to network to identify diverse and minority-owned businesses in your community? You don't want to miss this event!
About this event
The Indiana Toll Road, City of South Bend, and South Bend Community Schools are partnering to host the first annual Diverse Business Trade Show. The event will take place on June 1st at the South Bend Century Center.
The event will focus on creating engaging connections between community partners and diverse businesses, with an agenda including:
Introductory remarks from the Indiana Toll Road, the City of South Bend, and South Bend Community Schools.
A conversation on 2021 Supplier Diversity Program trends from Supplier.io.
Open showcase in the Great Hall, featuring 78 diverse business and advocacy partners ready to share their tools and resources with the community.
Various workshops, including a guide on obtaining certification, doing business with partners, and other diverse supplier topics
There are currently 30 open free Exhibitor spaces available on a first come first serve basis. The Sponsor opportunity is open as well and welcomed. Please see below: More events from this organizer to register as either an Exhibitor or Sponsor!
On behalf of all our partners, we thank you for your support and hope you will join us.