Strategy Session 4 in the 4-Part Series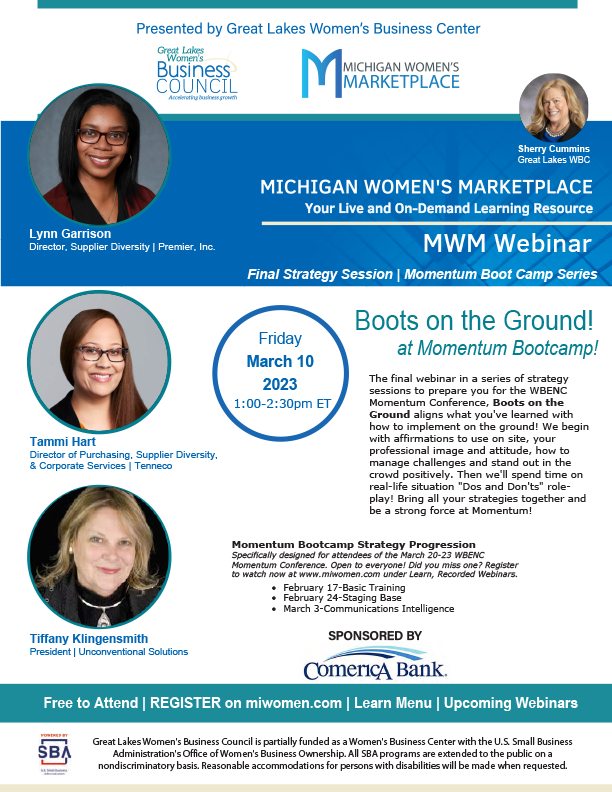 March 10, 2023 | 1:00 – 2:30 pm
The final webinar in a series of strategy sessions to prepare you for the WBENC Momentum Conference, Boots on the Ground, aligns what you've learned with how to implement at the conference! We begin with affirmations to use on-site, your professional image and attitude, and how to manage challenges and stand out in the crowd positively. Then we'll spend time on real-life situational "Dos and Don'ts" role-play! Bring all your strategies together and be a strong force at Momentum!
Speakers
Sherry Cummins | Women's Business Development Sr. Specialist | Great Lakes Women's Business Council
Lynn Garrison | Director, Supplier Diversity! | Premier, Inc.
Tammi Hart | Director of Purchasing, Supplier Diversity, & Corporate Services | Tenneco
Tiffany Klingensmith | President | Unconventional Solutions
Momentum Bootcamp Strategy Progression
February 17 – Session 1 Basic Training
February 24 – Session 2 Staging Base
March 3 – Session 3 Communications Intelligence
March 10 – Session 4 Boots on the Ground
This is an interactive, exciting series with subject matter experts providing the content. Though geared to our WBEs, everyone is welcome to attend to glean the important information given.
---
Free to Attend | REGISTER OR LOGIN on miwomen.com | Learn Menu | Upcoming Webinars