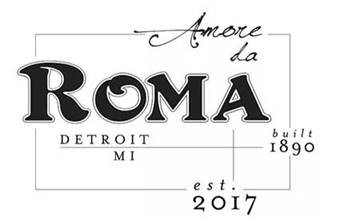 After working as Executive Chef at Roma Cafe for four years, Chef Guy Pelino decided to revitalize the property and continue the tradition of Roma Cafe, and re-open as Amore da Roma. Chef Guy Pelino has been a part of the Italian cuisine culture here for over 25 years. He is thrilled that Amore da Roma will be able to contribute to the revitalization of Eastern Market while maintaining the history of the original Roma Cafe in both recipes and atmosphere. 
Guy received support from CEED Lending to re-open as Amore da Roma and looks forward to serving all generations as they come to Detroit to continue their traditions, celebrate their heritage, and create memories in a city that is full of diversity, culture, and pride. It is a rich tradition of family and friends, combined with delicious food and great wines. We are proud that CEED Lending was able to support the next chapter for this Iconic landmark of Detroit.
The Roma Cafe building was built by the Marazza Family in 1888. It served the vendors and farmers of Eastern Market, and officially became Roma Cafe in 1890. The interior has been renovated with new ceilings, furniture, and fixtures, and some redesigns have helped open up the space. Historic elements, including an antique radio and small window used during the Prohibition era, were preserved.
Pelino's son, Jordan, is head sommelier and has expanded the wine list from 20 selections to 100. On tap will be three craft beers and either a Roma Manhattan cocktail or Old Fashioned. The food menu will include staples of the previous restaurant.
Much of the food and decor has been sourced from Eastern Market, an important component of Pelino's business plan, which focuses on making the restaurant central to that community. The restaurant is working with local artists to display work at the restaurant. The artwork will be rotated regularly and much of it will be for sale.
Also in the works is a community workplace concept during off-hours. The idea is to allow local entrepreneurs and professionals to rent space in the mornings before opening, offering them a place to work and meet with clients later.
Amore da Roma
3401 Riopelle Street
Detroit MI 48207