Great Lakes WBC is committed to supporting small businesses that are impacted by COVID-19. We are pleased to offer the COVID-19 Recovery Program through our Women's Business Center. These services are being offered remotely. All you need is your device and access to the Internet.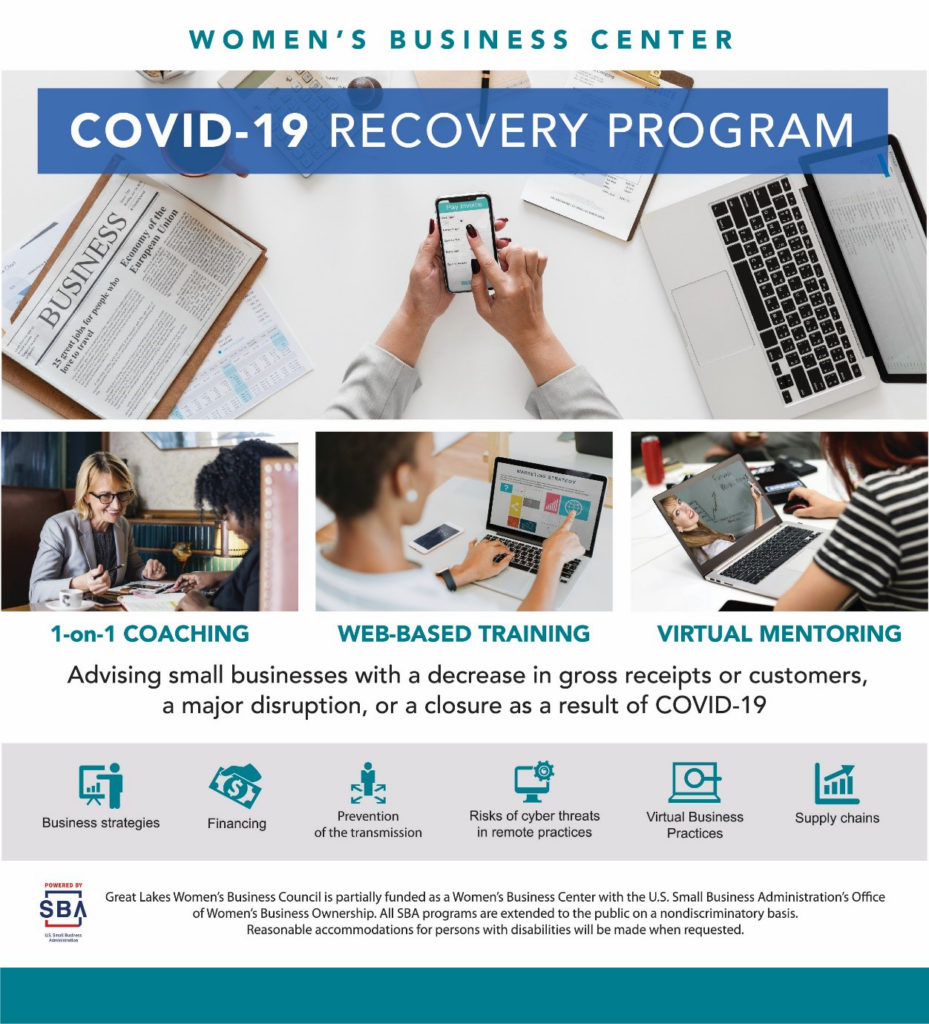 COVID-19 Recovery MentorWE Testimonials
"Thanks to the MentorWE program, I met mentor Sue, she devised an amazing social media campaign "Help A Sister Out" which amassed HUGE success as I reached out to entrepreneurs all over the country asking them to make a trip to Walmart to purchase my product and post a pic with my product. In exchange I have been sharing my experience and assistance to them. The benefits of MentorWE are priceless and my company is a clear example of how mentorship helped my business not only survive but to thrive! "
Tiffany N. Cartwright
Owner, Amarra Products
"I received my WBE certification in February of 2020. Not only has Great Lakes WBC supported my growth every step of the way, they offered me an opportunity to participate in the MentorWE program. The mentees are the beneficiaries of our mentor Jodi's tough love and generous support. The program has been instrumental in moving my business from surviving to thriving."
Pamela Denise Mack
Principal Attorney, Mack Law Group
"By joining MentorWe program, without a doubt, I've entered a new dimension to growing my business. My mentor Laura presents ideas and systems with a fresh approach and manages to express her point of view in a clear and convincing manner. In the end, we, the mentees, "get it". Laura's leadership has introduced me to new insight of how to perceive situations. Undoubtedly, I am fortunate to be part of the of the Great Lakes WBC tribe and to have wonderful experiences in the events, activities, and executive training programs."
Colette Douglas
President, Elite Customer Service
"MentorWe program have assisted my business to growth in the right direction. I have so much more confident and making crucial decisions for my business, being a part of this program it is a safe place to grow and be vulnerable with other business owners as they lean their expertise and suggestions is truly priceless. The collaborations between all of the women is amazing sharing ideas, it's a great support system to help knowing you have other like-minded people working towards a common goal of being successful by providing contribution as well as our triumph and defeats. I know beyond a shadow of a doubt that we will be successful and we are obtaining sustainability because I am with women who win 🏆!!!"
Haith L. Johnson
Chief Executive Officer, Le'Host
"I am honored to be part of the MentorWe program to network with other business owners with similar concerns and learn new strategies that I will be able to implement immediately that will positively affect my business. This type of intimate group setting provides an opportunity to openly discuss challenges you're facing within your business, learn how other members have handled similar situations, and learn from the mentors who have proven success in certain areas."
Tamika Brown
Chief Executive Officer, RSVP Premier Events
"When JEADL Enterprises was invited to join the MentorWE program, I was excited. I always wanted a mentor and this opportunity provided me with not one but two. As a mentee of MentorWE, it allowed us to revisit our company and dissect our offerings. Being a mentee in MentorWe I have been able to seek additional assistance from other mentee like Sue K who has given me so many things to think about to develop JEADL Enterprises to become a game-changer in the event planning/management company. My overall experience with MentorWe is nothing short of amazing and I look forward to learning and growing more along with rest of my cohort."
Orena Perry
Managing Director, JEADL Enterprises
"I am so grateful to be a part of the Great Lakes MentorWE program and to be mentored by Jodi who has been very instrumental in helping our company to expand and grow. I am looking forward to all the things we will be learning from our connection with this program to continue to grow and scale my business."
Cassaundra Sims
Chief Executive Officer, Universal Solutions Management
"Great Lakes WBC awarded Tangico a Disaster Recovery Grant which helped keep us afloat. I joined the MentorWE program hoping to feel "less alone" and hear different perspectives. MentorWE has me contemplating business questions I would not have asked myself, such as: What can I do to make Tangico viable in a down economy? I am now aware of financial resources I did not know existed and a fellow mentee must have found my input helpful because she sent me a bouquet of flowers!"
Sue Kinch
Owner, Tangico
"CIMA was fortunate enough to be selected to the MentorWE Program. Our mentors are fantastic (Michelle and Anne). Their outpouring of support to me and the other members of our cohort has far surpassed anything I have experienced in my career. The benefits we are receiving from the MentorWE Program are invaluable. The program provides a perspective, accountability, networking, and personal development that any small business would benefit from. Thank you for your continued support - it means so much to all of us! Together We Triumph!"
Martha Foreman
Chief Executive Officer, CIMA Consulting Group
"I was thankful to be chosen as a Mentee for the COVID-19 Recovery MentorWe Program. A program designed to build up women owned businesses through the power and strength of other executive women owned businesses. These Mentors are women that know our struggles, met our pain face to face, walked our walk and with strength and determination they found success not only in the value of a dollar but by helping another woman navigate their way through their journey. I am so thankful that my mentor Jodi has taken the time out of her busy schedule to help me and five other women business owners. Not for a day, not for a week or a month, but she has committed to mentor us for nine months. How awesome!"
Lesa Walker
CEO, Sweet Thoughts