Strategy Session 2 in the 4-Part Series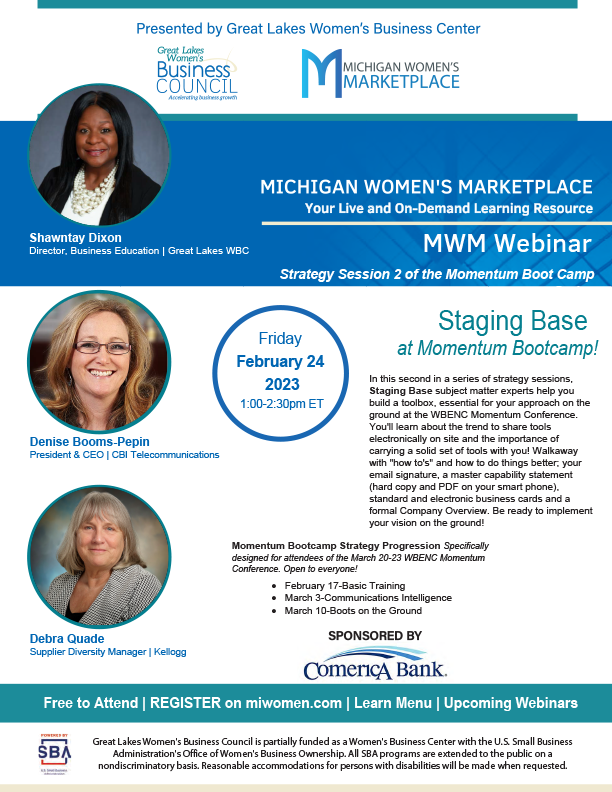 February 24, 2023 | 1:00 – 2:30 pm
In this second in the series of strategy sessions to prepare you for the WBENC Momentum Conference, Staging Base subject matter experts help you build a toolbox, essential for your approach on the ground at the WBENC Momentum Conference. You'll learn about the trend to share tools electronically on-site and the importance of carrying a solid set of tools with you! Walkaway with "how to's" and how to do things better; your email signature, a master capability statement (hard copy and PDF on your smartphone), standard and electronic business cards and a formal Company Overview. Be ready to implement your vision on the ground!
Speakers
Shawntay Dixon | Director of Business Education | Great Lakes Women's Business Council
Denise Booms-Pepin | President & CEO | CBI Telecommunications
Debra Quade | Supplier Diversity Manager | Kellogg
Momentum Bootcamp Strategy Progression
February 17 – Session 1 Basic Training
February 24 – Session 2 Staging Base
March 3 – Session 3 Communications Intelligence
March 10 – Session 4 Boots on the Ground
This is an interactive, exciting series with subject matter experts providing the content. Though geared to our WBEs, everyone is welcome to attend to glean the important information given.
---
Free to Attend | REGISTER OR LOGIN on miwomen.com | Learn Menu | Upcoming Webinars