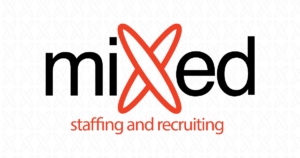 Founded by Sara Knoester over a decade ago in Grand Rapids, MI, Mixed Staffing & Recruiting has emerged as a beacon of hope and opportunity for individuals facing barriers to employment. Sara's unwavering commitment to empowering women, minorities, military veterans, and returning citizens fueled the creation of a staffing agency unlike any other.
From the moment Mixed Staffing opened its doors, Sara's vision for a true person-centered approach to staffing set them apart. They prioritized building genuine connections with applicants, taking the time to understand their skills, aspirations, and personal circumstances. Unlike the assembly-line mentality of other agencies, Mixed Staffing was determined to match individuals with positions where they could truly thrive and contribute to the growth of client companies.
Clients soon recognized the difference in Mixed Staffing's approach. They marveled at the level of care and attention shown to both employees and clients. Mixed Staffing's commitment to removing barriers for individuals seeking gainful employment was evident in their diverse workforce, comprising returning citizens, military veterans, non-English speakers, and individuals with disabilities. This dedication to diversity, equity, and inclusion allowed companies to build stronger, more representative teams that embraced different perspectives and experiences.
Despite numerous challenges and obstacles, Mixed Staffing persevered under Sara's steadfast leadership. Sara's relentless pursuit of excellence, combined with her unwavering passion for people, propelled the agency to new heights. Even during the turbulent times of a global pandemic and surging unemployment rates, Mixed Staffing experienced its most significant growth to date, a testament to the resilience and determination of the entire team.
Mixed Staffing's impact extended far beyond the realm of employment. Sara Knoester, a true advocate for her community, utilized her platform to drive change. Recognizing the need for employers to embrace diversity, she incorporated Diversity, Equity, and Inclusion (DEI) initiatives into Mixed Staffing's business model long before it became a widespread trend. In the wake of George Floyd's tragic death, Sara spearheaded the "Let's Listen" series, inviting people of color to share their stories and educate others. The series became an unprecedented success, drawing in thousands of listeners and inspiring meaningful dialogue that bridged divides and fostered understanding.
Sara's commitment to giving back is evident in her involvement in philanthropy, board memberships, and generous donations to organizations aligned with her vision and mission. She exemplifies the values of stewardship and community, actively working towards creating a better future for all.
Mixed Staffing's success story is not only reflected in the remarkable journey of the agency but also in the testimonials of those they have served. Countless individuals have found hope, stability, and fulfilling careers through Mixed Staffing's dedicated efforts. The agency's impact on their lives and the community at large is immeasurable.
As Mixed Staffing continues to thrive and evolve, they remain committed to their founding principles. They are a certified Women's Business Enterprise, demonstrating their dedication to fostering diversity and empowering women in the business world. They continue to forge partnerships with clients who value their WBENC certification and embrace their person-centered approach.
Mixed Staffing's incredible success story is a testament to the transformative power of dedication, compassion, and a genuine desire to make a difference. Under the leadership of Sara Knoester, Mixed Staffing & Recruiting has become a trusted partner for companies seeking exceptional talent and a beacon of hope for individuals striving to overcome barriers and realize their full potential.