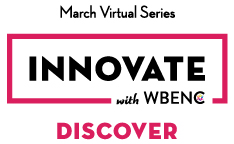 HEALTHCARE INDUSTRY
MONDAY, MARCH 7 | 2:00-3:30 PM ET
Join WBENC this Monday for the first session in our March series taking place throughout Women's History Month, focused on opportunities for innovation with the Healthcare Industry.
Many challenges are facing the manufacturing segment of the Healthcare industry, from critical supply chain issues to the need for the development of innovative forward engineering designs. This is a vital time when innovation can play a key role in moving this industry forward and invigorating the manufacturing segment, while still adhering to regulations.
Join us as subject matter experts from our Healthcare Advisory Board (Bristol Myers Squibb, Johnson & Johnson, Medtronic, Merck and Pfizer, Inc.) discuss the current environment, the challenges they face and the innovation opportunities. There will be an opportunity for WBENC-Certified WBE attendees to apply to be selected to present innovation to the Healthcare Advisory Board at a later date as part of the 25th Anniversary Innovate with WBENC initiative.
---
About Innovate with WBENC
Innovate with WBENC is a year-long event initiative to foster and empower innovation throughout our 25th year. This series will feature a variety of opportunities for both WBEs and Corporate Members to better share and understand the needs, opportunities, and challenges around innovation. WBEs will also learn foundational knowledge needed for innovation and, ultimately, access a platform for WBEs and Corporate Members to connect and bring innovative ideas to the next level.
In March, the month-long series Discover will provide foundational knowledge on innovation needs within specific industries. The series will culminate at the exclusive November in-person event where WBEs will have the opportunity to pitch their innovative ideas directly to Corporate Members.