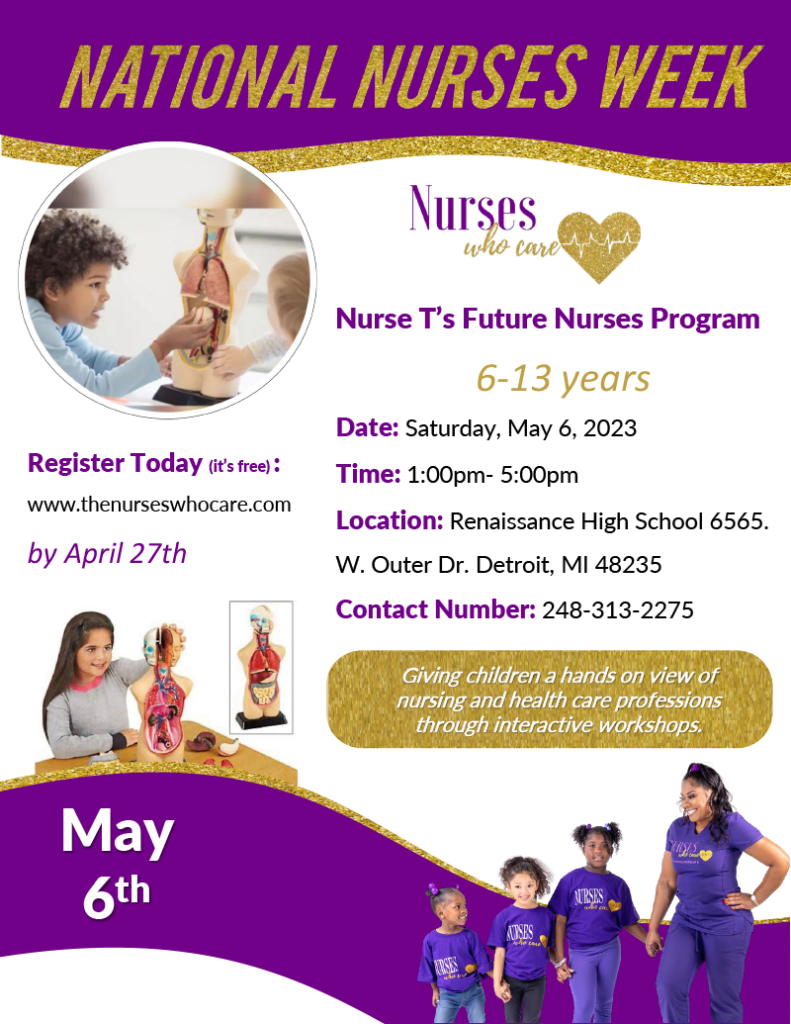 Nurse T Holding Nurses Program in Detroit
for Kids 6-13
May 6 2023 | 1:00 – 5:00 pm
Register by 4-27-2023
Teberah Alexander, RN, BSN, also known as "Nurse T," today announced that registration is open for her Future Nurses Program for children 6-13 years of age. The event is being held on Saturday, May 6th from 1-5 pm at Renaissance High School (6565 W. Outer Drive) in Detroit in honor of National Nurses Week.
Nurse T's Future Nurses Program will give children a hands-on view of nursing and healthcare professions through interactive workshops. The program will introduce these crucial fields to kids directly from the source and celebrate that nursing is not only a job – it is a calling. The free program will also appeal to youth, nursing students, nursing instructors, health care professionals, hospital administrators, pharmacists, teachers, and the community.
Register for the Future Nurses Program at thenurseswhocare.com by April 27th. For more information, contact 248-313-2273 or teberah@thenurseswhocare.com.
Alexander, the founder and CEO of Nurses Who Care, is on a mission to entertain children during playtime while encouraging their personal development skills through books, dolls and games. So, she used her experience and wisdom from her nursing career to also launch the Nurse T Doll, which is designed to instill a love for the medical field in young girls and boys, fostering ambitions to become the patient care professionals of the future.
In the spirit of playing with a purpose, the doll will help teach kids about a day in the life of a nurse because "we are counting on the next generation to connect with their inner enthusiasm and study nursing," Alexander said. The Nurse T Doll is also the first-ever nursing doll in the image of a real nurse.
To purchase a Nurse T Doll, visit thenurseswhocare.com/doll.
About Nurse T
Nurses Who Care founder Teberah Alexander, RN, BSN, has more than 14 years of experience in clinical care. She is also an extremely successful businesswoman and the owner of Farmington Hills Adult Day Care and Excelling Nursing Academy in Michigan. Alexander formed Nurses Who Care to help like-minded people become exceptional nurses and forge successful careers in the healthcare industry.
Channel 7 WXYZ | Meet the woman helping Detroit students learn more about nursing & growing their interest | View Interview. Learn why Nurse T helps students learn about nursing.