Overview
• Supplier Matchmaking Day at Wayne State
• Declutter Your Mind During Crisis
• Recognizing Emotions: Re-engaging Your Team After COVID-19
• Tools to Support Your Business Internationally
Wayne State University Supplier Matchmaking Day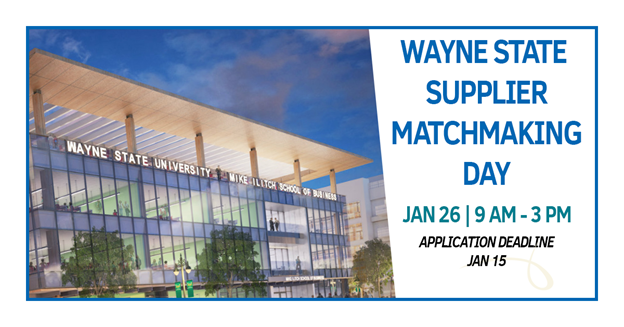 Are you a supplier looking for new opportunities? Pure Michigan Business Connect has partnered with Wayne State University (WSU) to hold the 2021 WSU Supplier Matchmaking Day.

January 26 | 9 AM – 3 PM

Application Deadline: January 15
Declutter Your Mind During Crisis
Arian Hargrove, Founder & CEO Love 4 Systems

This year we are adapting to new work norms and searching for productivity in our workflow. Peak productivity is possible using mind mapping and other decluttering tools to produce work and focus on your life regardless of circumstances.

You'll walk away with strategies for how to make sense of what's in your head and a plan of action to begin implementing ideas immediately!

No Cost to Attend | A Virtual Presentation | Powered by the SBA
Recognizing Emotions: Re-engaging Your Team After COVID-19
Priscilla Archangel, Owner Archangel & Associates

As we reopen the economy, employers must not only ensure they provide a safe physical workspace they must also recognize the emotional needs of their team members. Discover important strategies to prepare you to reengage with associates who have experienced emotional uncertainty, fear, insecurity, illness, and loss of income or loved ones.
No Cost to Attend | A Virtual Presentation | Powered by the SBA
Tools to Support Your Business Internationally
Do you want to grow your international sales by exporting to new markets with confidence?
Join the Export-Import Bank of the United States (EXIM) and partners, U.S. Commercial Service and the Great Lakes Women's Business Council, for an overview session strategies for access to cash flow and mitigating risk to ensure your company gets paid by foreign customers.
Wednesday, January 13 | 2 PM – 3 PM
You Will Learn:
• Finding an Connecting with Overseas Buyers
• Offering credit terms to your foreign customers while protecting against nonpayment
• Accessing funds with EXIM's Working Capital Loan Guarantee
---
WBE Exclusive Offerings
WBE Toolkit – 'I've been certified, but can I do more!?'
January 19 (9:30 AM) | Register to Attend
April 13 (9 AM) | Register to Attend

WBE Onboarding – 'I'm newly certified, but now what!?'
January 12 (9:30 AM) | Register Here
February 9 (9:30 AM) | Register Here
March 12 (11 AM) | Register Here
April 9 (11 AM) | Register Here
​
​
​