Preparing Black Businesses for SuccessTechTown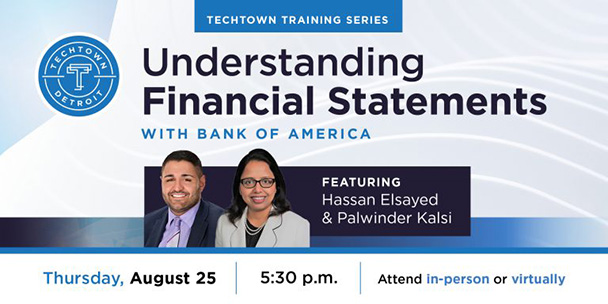 ---
In this hybrid workshop, Palwinder Kalsi and Hassan Elsayed, two small business bankers and vice presidents at Bank of America, will share financial best practices learned from working directly with their small business clientele. Kalsi and Elsayed will offer financial literacy tips, tactics and strategies to help entrepreneurs and established small businesses stay on track and flourish. Join us and walk away with immediately usable resources to take your small business to the next level!
---
TechTown Newsletter
Find out the latest news, workshops and opportunities by subscribing to the Tech Town email list
---
Ask an Expert | TechTown Detroit
Members of TechTown's Professional Service Network provide free, 25-minute consultations to help you with growing your business.
TechTown Detroit is a nonprofit business service organization providing programs, education and resources for early- to growth-stage small businesses and tech entrepreneurs. We are working alongside our ecosystem partners to provide resources, funds and visibility for Black-owned businesses in Detroit that will break cycles of poverty and build intergenerational wealth.
---
TECHTOWN ENTREPRENEURIAL EDUCATION IS MADE POSSIBLE WITH SUPPORT FROM
Bank of America | Michigan Economic Development Corporation | New Economy Initiative
Ralph C. Wilson, Jr. Foundation | Walters Family Foundation