Preparing Black Businesses for SuccessTechTown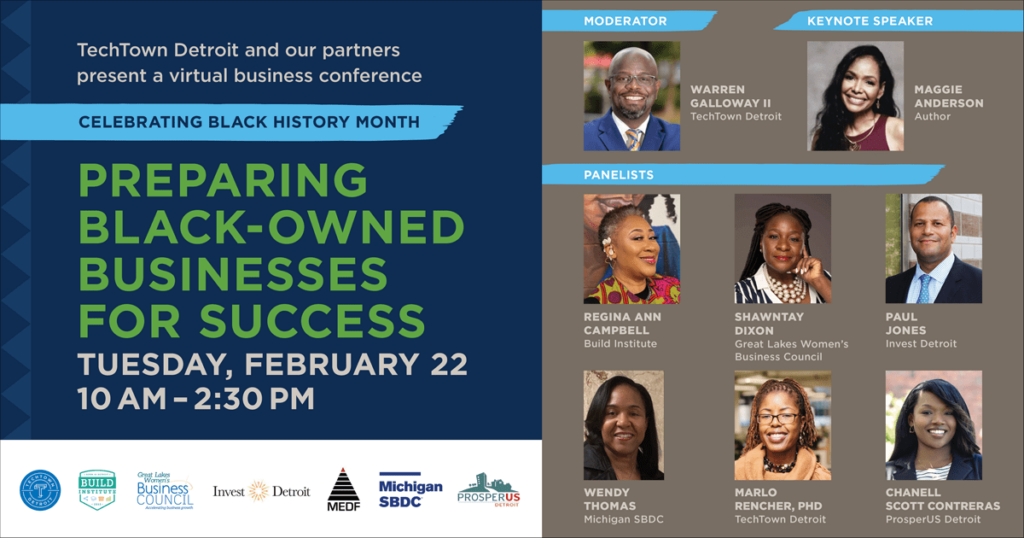 A virtual business conference presented by TechTown Detroit in partnership with Build Institute, Great Lakes Women's Business Council, Invest Detroit, Minerva Education and Development Foundation (MEDF), Michigan Small Business Development Center and ProsperUS Detroit.
If you're a Black-owned business, part of the business service ecosystem or simply curious how to support Black-owned businesses in Detroit, this conference is for you!
Join TechTown Detroit and our partners for a day-long virtual conference in observance of Black History Month as we prepare Black-owned businesses in Detroit for success through the global pandemic and beyond.
This inaugural conference will feature panels with business service providers, breakout sessions and a keynote speech by Maggie Anderson, author of "Our Black Year." Ms. Anderson will share lessons learned from the economic empowerment project of marginalized Black businesses in the 21st century.
Breakout sessions will range from the importance of maintaining personal relationships while building a business, to the history of Black-owned businesses in Detroit, and understanding your political power and role in local politics.
TechTown Detroit is a nonprofit business service organization providing programs, education and resources for early- to growth-stage small businesses and tech entrepreneurs. We are working alongside our ecosystem partners to provide resources, funds and visibility for Black-owned businesses in Detroit that will break cycles of poverty and build intergenerational wealth.
---
TECHTOWN ENTREPRENEURIAL EDUCATION IS MADE POSSIBLE WITH SUPPORT FROM
Bank of America | Michigan Economic Development Corporation | New Economy Initiative
Ralph C. Wilson, Jr. Foundation | Walters Family Foundation